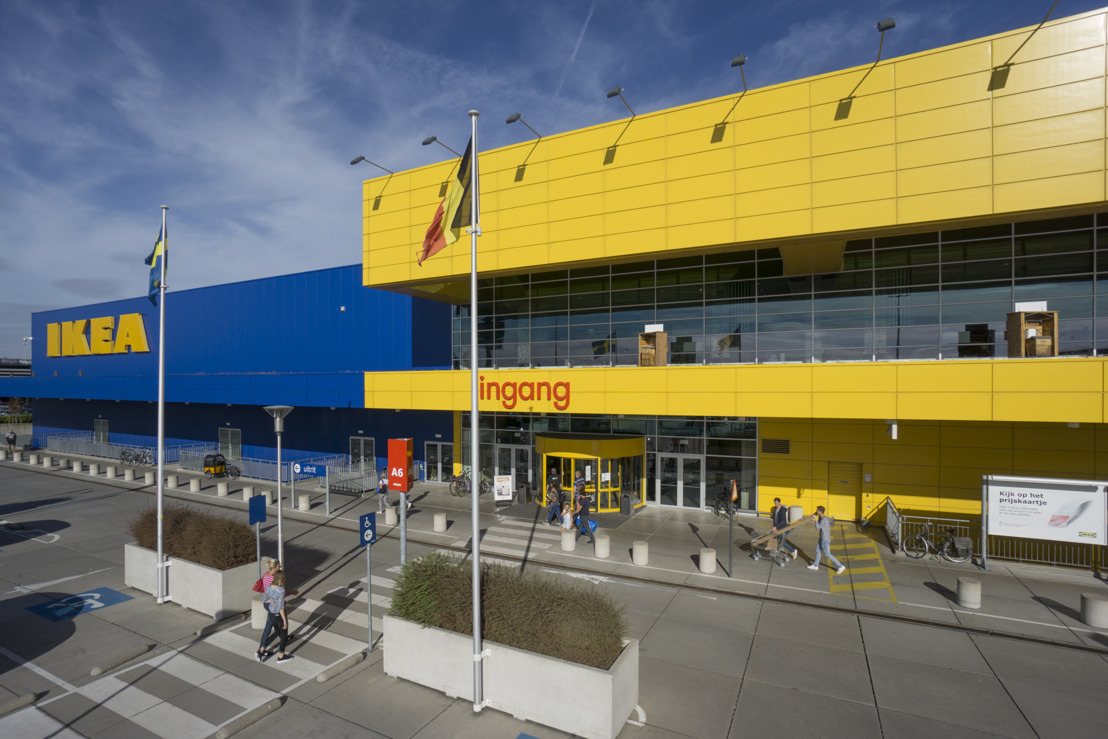 Record turnover of 1.2 billion euro for IKEA Belgium
€30 million investment in omnichannel and lower prices for more than 750 products in FY24 
Zaventem, 12 October 2023 - Despite the ongoing challenges posed by inflation and high energy prices, IKEA Belgium has achieved a record operational turnover of €1.208 billion for its fiscal year 2023. This marks a 16% increase in turnover compared to the previous year's €1.037 billion. This impressive double-digit increase is among others the result of various investments in the omnichannel customer experience. The coming year, a smooth and effortless omnichannel customer experience remains a key focus for IKEA Belgium with a €30 million investment, as will kitchens and storage solutions as growth drivers. On top of that, IKEA Belgium is lowering the prices of over 750 products, mainly across its most affordable range.
Key Figures
The fiscal year 2023 presented considerable economic challenges, including soaring inflation and energy costs. These factors placed higher pressure on the company's operational costs, but also on customers whose purchasing power was negatively impacted. Nevertheless, for fiscal year 2023, IKEA Belgium reports a record operational turnover of €1.208 billion from products and services, representing a significant double-digit growth of 16%. The company managed to combine this growth with a reduction of its climate footprint. Key trends in various revenue streams include a 12% increase in kitchen sales, a 29% increase in food sales, and a remarkable 97% increase in Click & Collect sales.
Lower prices for more than 750 products
At a time when life becomes more expensive for many people, IKEA is committed to lowering its prices so that everyday home products remain as affordable as possible for as many people as possible. As of September 1st, IKEA Belgium has lowered the price of ca. 750 products, mainly in its most affordable range. This was made possible by, amongst others, the operational excellence of IKEA and lower costs of raw materials and transportation. This way, IKEA Belgium is able to pass on €29 million directly to the customer, mainly in its most affordable range.
Omnichannel Experience
To meet evolving customer needs, IKEA Belgium invested significantly in enhancing the omnichannel shopping experience and will continue to do so in 2024. Notable achievements include a near doubling of Click & Collect sales, and the successful introduction of Scan & Go technology, which allowed almost 60,000 satisfied customers to scan items with their smartphone and quickly pay for them.
As part of its omnichannel transformation, IKEA Belgium improved the customer experience in its existing stores and online, reduced waiting times and increased capacity for online services. Notable investments include a separate Click & Collect area at IKEA Arlon, where, thanks to a larger on-site stock, customers can not only be served faster, but also more smoothly thanks to the separate entrance where they pick up their orders.
IKEA Belgium also pioneered in innovative technologies with the autonomous drones used for inventory checks in 5 Belgian IKEA stores and, in collaboration with co-workers, the distribution centre at Winterslag.
Sustainability and Responsibility
IKEA Belgium managed to reduce its climate footprint by 28% (2798t CO2 for FY23) during fiscal year 2023, decoupling financial growth from an increase in climate footprint as a result of waste management and water and electricity consumption. 29% of last-mile deliveries were carried out with EVs, and IKEA continues its efforts to increase this share to reach 100% by the end of 2025.
The commitment of IKEA to make a positive impact on the Belgian local communities remains unchanged. Through the 'Welcome Home' project, which supports single-parent families in Belgium and in Luxemburg, IKEA Belgium worked closely together with civil society, +600 co-workers volunteered during working hours since the start and donated €200.000 in fiscal year 2023. Through the 'Growing & Working Together' program, 106 refugees were trained in the past 3 years. For fiscal year 2024, IKEA Belgium aims to train 40 more refugees.
Looking Ahead
For the new fiscal year 2024, key focus areas for growth include high-in-demand storage solutions and kitchen segments. In the coming year, IKEA continues to invest in its omnichannel transformation and has foreseen €30 million of investments, amongst others in renewable cooling and heating systems, electric vehicle charging infrastructure in all eight stores, and more convenient solutions for our customers to be accessible outside opening hours and at a lower operational cost.
Results Ingka and Inter IKEA
Ingka Group, owner of IKEA Belgium, reported a turnover of €41.7 billion (+5.7%) for financial year 2023. Inter IKEA, the franchisor of IKEA Belgium, achieved a turnover of €47.6 billion.